In a surprising development, nine months after May 2018 parliamentary elections, the Constitutional Council decided to annul one of the results of the North 2 district, removing MP Dima Jamali (one of only six female MPs in Lebanon) from office, and calling for new elections! The elections should be held within two months, on majoritarian basis, in the Tripoli sub district!
They say timing is everything! Indeed had this decision made public two weeks ago, just before the formation of the government, it would have definitely upended the whole process and the government would not have been formed. At this time, the effects of this decision are minimized, the political balance has been set, and the government has been formed, and won an overwhelming vote of confidence. However, such a decision could be used by anyone who want to further challenge the power base of the prime minister.
Using the formidable tool of open data, made available by the Data Liberation Project, with cooperation with NDI, I analyzed the numbers of Tripoli and applied a preliminary analysis to the upcoming electoral battle. All the following numbers are only for the Tripoli sub district, excluding Minniyeh and Donniyeh (as per the decision of the Constitutional council for holding a runoff election within two months based on a majoritarian law only in Tripoli)
Turnout: turnout was fairly low in Tripoli, with only 30% significantly less than the national average of 49%. Turnout will be critical in this upcoming election. People are generally less motivated and enthusiastic in run off elections, and it will surely be lower than the 30%. If any party could build momentum and conserve a good showing, surprises might be in store!
Political distribution of voters: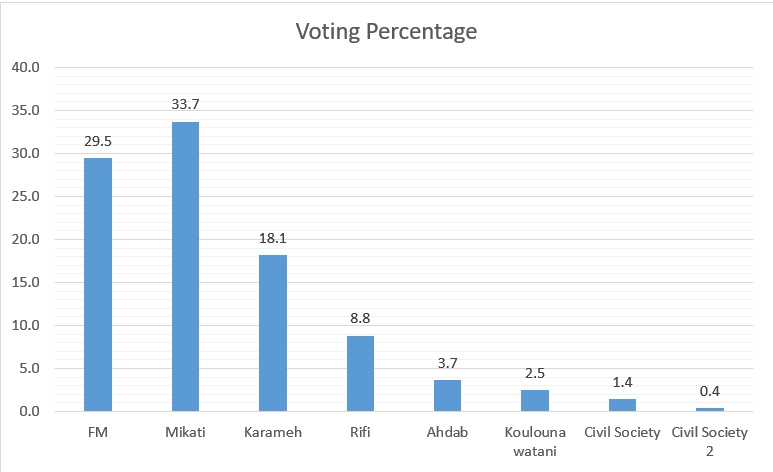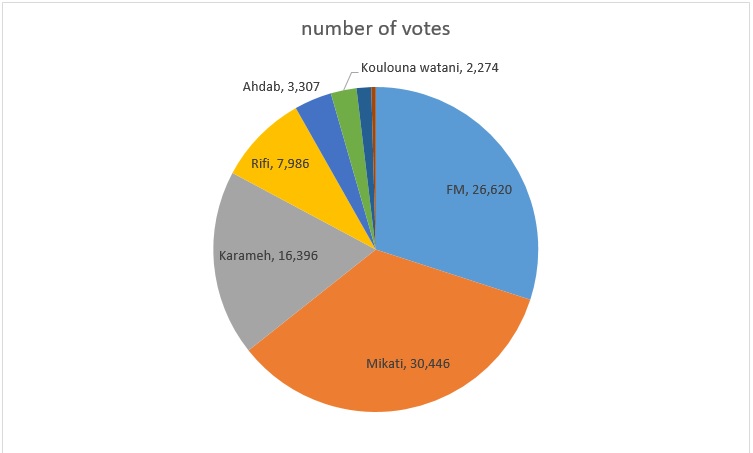 Future Movement and Mikati are the clear favorites! The rest are divided among several opposing forces, with Karameh at 16,396 almost half of Mikati. Ashraf Rifi, who won the 2016 municipal elections come at a very distant fourth with almost eight thousands.The rest of the political factions can barely muster another 8,000. Thus it will be a game of alliances, with Mikati playing the role of king maker, whoever he sides with ( either FM or Karameh) would win.However, a Mikati FM alliance seems more plausible, as the two are already allied in the government and politically close. On paper, such an alliance should give their candidate a large majority of almost 57,000 votes.
It is important to note that this will be an open election, so if Mikati decides to put forth his own candidate, all bets will be off and the smaller parties role and importance will exponentially grow ! Nevertheless, this scenario seems far fetched, and Mikati would probably choose to stick with PM Hariri and Future Movement.
Finally, a word to the wise, in 2016 municipal elections a large Mikati and FM alliance was formed, yet Ashraf Rifi was able to win the election. Thus, it is imperative for these political parties to energize their base, and run an efficient and smart electoral campaign! Especially if this turns into a three way fight! Assuming of course that the Council's decision is respected and the elections are held on time!